Maurice Andrews Solicitors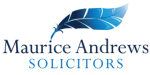 Business Description:
We're a team of professionals who decided that there should be more support for complex cases. Maurice Andrews Solicitors are people dedicated to giving you the best. You do deserve it, after all. When there's a serious charge being brought against you, or you're just unsure of how to proceed, we've got your back. It's all part of our commitment to helping.
Send Message to listing owner